How to create a quarter-turn pattern?
Posted by
Administrator
-
3/18/2016 12:15 PM
Member for: 3 years 5 months 28 days
In orer to create a quarter-turn pattern, you need to install the multi-family or commercial edition. Below is an example showing you how to create a quarter-turn carpet tile pattern.
Step 1. Product tab->Add Tile->edit the name and size of the carpet tile->click the "folder" icon to upload an image to Picture URL.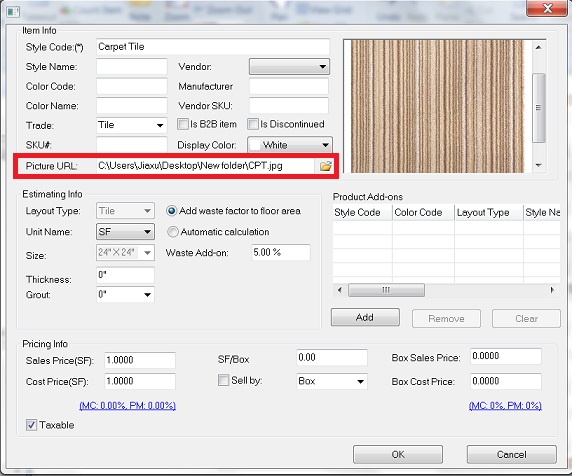 Step 2:File menu->System Setting->Material layout->check "show Tile image"
Step 3: From the lower left corner->Pattern Library->Tile Pattern Editor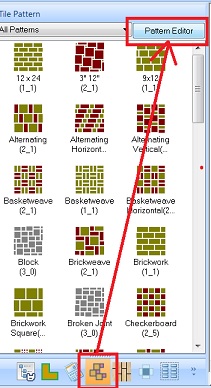 Step 4: In Pattern Editor window-> New->Select the tile size from the pull-down list on top right of the pop-up window ->click Add Tile->click the Tile Type pull-down list to select the tile that you want to work on->OK.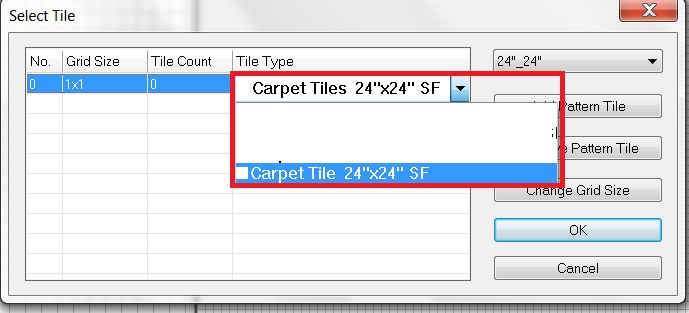 Step 5: Move the cursor to locate a cell to start and you will see an arrow appear, which indicate the direction of the tile.
Step 6: Left click to drop a tile in the left grid. If you want to change the direction of a particular tile, right-click on it->Rotate tile.
Step 7: repeat step 5 and step6 to complete the pattern: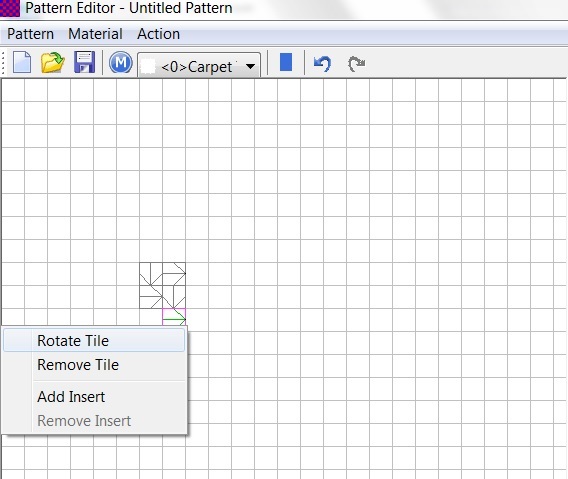 Step 8: The program will automatically generate all possible combinations of the pattern at lower right corner. Select one to rename and save. Close the Pattern Editor window
Step 9: draw the pattern and drop it to a room->on the pop-up window->select the Tile you want to apply to the room.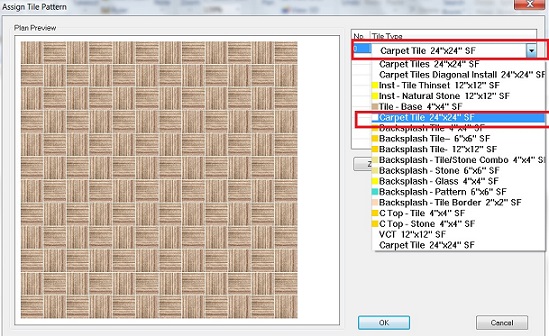 If you want to show the installers how the quarter-turn pattern should be installed, you can change the tile image to an arrow.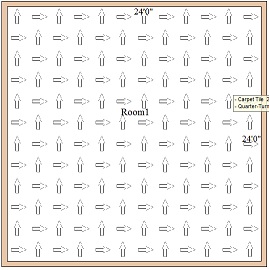 This is very helpful thank you .

The image facility sparks the imagination - I had not thought to introduce a symbol into the mix this opens up a lot of possibility for communication.

I'm flumuxed ?

I can get the image in the straight lay

But i loose the image when pattern editing ?it just grays out not even to background color ?

Member for: 3 years 5 months 8 days

Rtipping, I had this same issue when trying to send a customer a 3-tile layout. What I did was make sure I have the setting checked:

[IMG]http://i65.tinypic.com/kwxhl.png[/IMG]

Then right click on the plan (Not the room) and select "Overlay Drawings"

[IMG]http://i68.tinypic.com/2hdp1sl.png[/IMG]

I am then able to print my tile pattern layout to present to the customer.

Did all you suggested (TY) still not worrking.

Just so we are clear

Photoshopped arrow on to tile

Uploades image

linked to image

loading into drawing - no problem tile image with arrow is good (straight lay 1 direction).

http://bit.ly/1RRgwjr

Introduce the qaurter turn pattern Image greys out?(Yes I did remove original load and yes the cpt was loaded at pattern load.)

Got to be the pattern itself I have to hit the books.;/]

I have to go back to beggining on pattern creation (ive used this a lot but confess im not super confident with it)thats the only explanation if it where purly an image or link thing then it would not load at all.

Member for: 3 years 13 days

I'm with rtipping on this one. When I put the pattern in, I lose the images (it becomes white with black lines). Maybe its in the version I am working in?

No way im able to get images with patterns - I can get the tile with an image no problem add a pattern it solid's - out.?are you sure this is doable can you send a fep file with it done (include images) send it here estimatem24u@gmail.com.




Ok this is driving me nuts I got this which is what I want

But the images don't show up till I follow your instructions then go to room tool and change 1 tile to an image tile which of course is bent

Please help! looks like some how the room tool>replace tile is invoking images period even though I am replacing 1 tile ?????????????????????????????????????????????????????




And when I drag the are smaller the tile disappears.

Ok if you're ripping your hair out on this M2 staff are kindly examining the issue stay tuned.Sept 9 2016

Member for: 3 months 7 days

This idea of the quarter-turn pattern making is innovative. I like your

thinking

-ability and how you did all very easily. From the

best essay writing service

uk

reviews

I learn a lot about the ideas that helps us finding new designs like this.
Displaying
1
to
8
of
8
messages