How do existing Measure Square Desktop users upgrade to M2 2017?
Posted by
Administrator
-
6/8/2017 6:50 PM
Member for: 2 years 4 months 28 days
Step 1. Important facts about upgrading
1. Pricing
If you are paying monthly subscription, or if you are paying yearly maintenance fee for M2 desktop edition, you can upgrade to M2 2017 FREE OF CHARGE
If you purchased M2 2015 or previous edition, you need to start new subscription for each license
2.
Incompatibilities
The product database can be fully converted in to M2 2017. However, some libraries will NOT be converted to M2 2017, including

tile pattern library
wall profile library
hardwood pattern



The projects files created by M2 2015 can be opened in M2 2017. However, some products or designs will not be converted to M2 2017, including

The tile patterns, hardwood patterns
Wall stack designs
Borders
Replaced tiles

The system settings will NOT be transferred over to M2 2017 since M2 2017 has its own settings, including:

estimation related settings, style (color, thickness of lines), etc.
room template / takeout template
pre-defined comments/notes
view options
print settings
3. Grace Period
We allow existing user to use both M2 2015 & M2 2017 in parallel for 2 months
Then the system will disable M2 2015 licenses after the grace period ends
Step 2. Download Measure Square 2017 edition and create your M2 ID
https://www.youtube.com/watch?v=n2mLDsF9q4k

This video tutorial will show you how to

1) download and install M2 2017

2) how to create M2 ID

3) how to convert existing product database in to M2 2017 database

4) how to open projects created by M2 2015 & previous versions in M2 2017






Step 3. Contact M2 sales & support team regarding your license
1) Email alicia@measuresquare.com & darienne@measuresquare.com your account info and M2 ID
2) Please follow the format:
Company Name: xyz commercial estimation services
Account ID: C 1234
Measure Square ID: john.smith@xyzcommericalestimating.com
Step 4. Activate your program
Once you have setup your account, here are the steps for activating the software:
1. After downloading and opening the program, click File.

2. In the File menu, go to MeasureSquare ID & License and click. A Dialogue box should pop up.

3. In the top right corner of the box, click Activate. A new window should pop up with a list of license IDs and types.

4. Select the license ID & type you wish to activate on your computer (should match the ID/type found in the Cloud), and click Activate.

5. Exit out of the window, and your license should be activated on your computer.
Step 5. Convert your M2 database to M2 2017 format:
1. Open M2 2017-> Takeoff Tab->open product catalog window from Product/Services Window->Import Measuresquare 2015 Product Database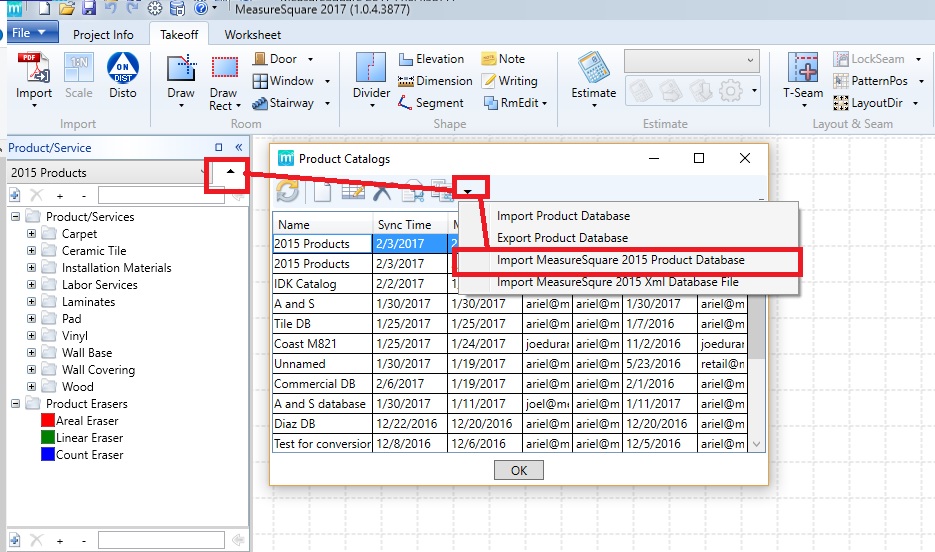 2. On the pop-up window->click fepMaterial7.mdb->click Open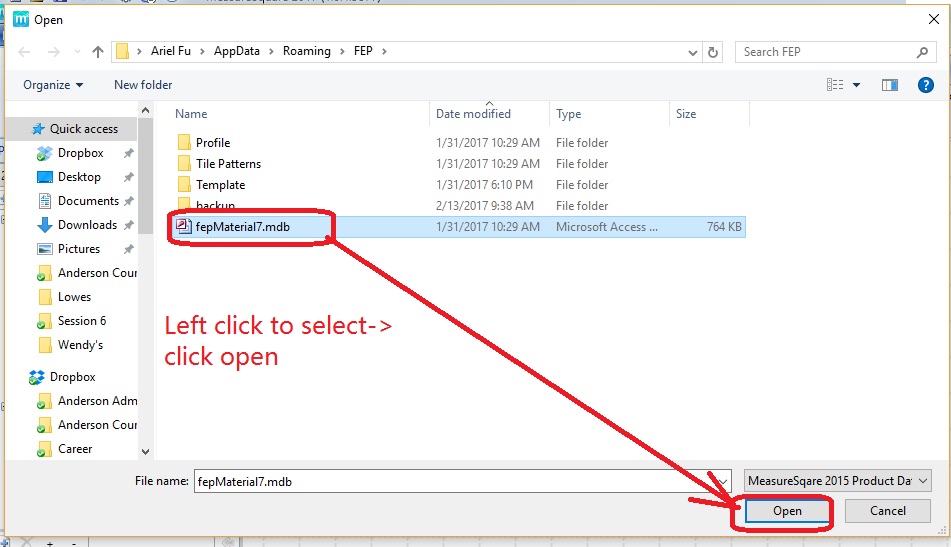 3. Left click on the database that just imported->click OK again.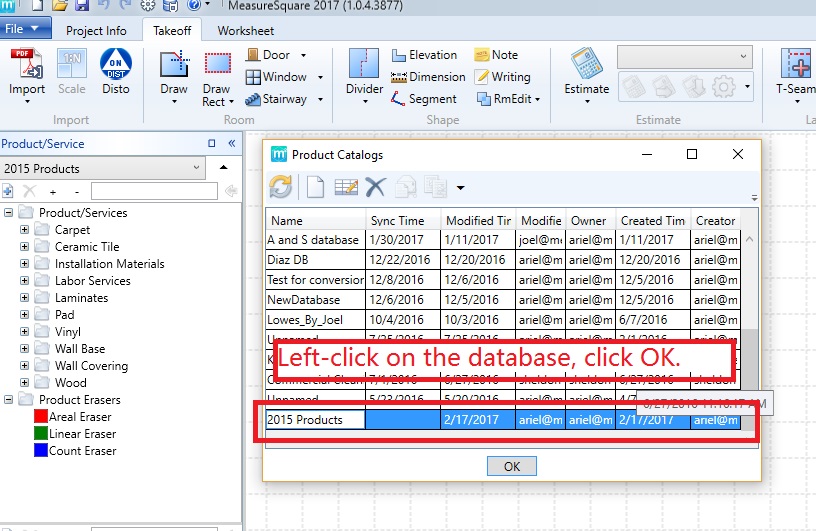 Step 6: Learn the new features of M2 2017



1) import & scale a blueprint: https://youtu.be/qAgC5CXCxEM







2) draw rooms with freedraw & corner detection: https://youtu.be/qAgC5CXCxEM?t=86







3) add a new product to the product database: https://youtu.be/qAgC5CXCxEM?t=160







4) create/rename/delete a new folder in the product database: https://youtu.be/qAgC5CXCxEM?t=202







5) change product layout type for an existing product: https://youtu.be/qAgC5CXCxEM?t=225







6) apply surface/linear/underpayment products to rooms: https://youtu.be/qAgC5CXCxEM?t=261







7) properties view ( review& modify room label, wall thickness, door style, etc.): https://youtu.be/qAgC5CXCxEM?t=385







8) estimation & estimation settings ( cut margin, roundup roll cut, round up total linear length, etc.) : https://youtu.be/qAgC5CXCxEM?t=423







9) seam manipulation (add/delete/move seams): https://youtu.be/qAgC5CXCxEM?t=493







10) worksheet (export to excel worksheet) : https://youtu.be/qAgC5CXCxEM?t=562







12) print report as PDFs: https://youtu.be/qAgC5CXCxEM?t=598