Troubleshoot Disto connectivity issue in Windows 10
Posted by
Administrator
-
3/29/2016 1:27 PM
Member for: 3 years 5 months 28 days
Note: This article only applies to users who use M2 2015 or older versions with Leica Disto D330i on Window 10 platform.
--------------------------------------
Scenario 1: After I upgrade to Windows 10, my Disto cannot connect to M2 program.
Upgrading to Windows 10 may affect your Disto connection. You may download the generic Blueooth drive to make it work again.
Step 1.if you right click on start icon->system find your system type, 32 bit or 64 bit
Step2. go to Intel's official website using the link below to download latest driver. https://downloadcenter.intel.com/search?keyword=bluetooth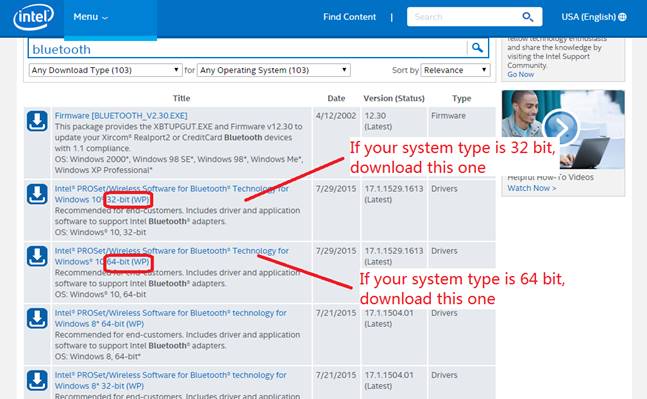 Step 3.install the driver, reboot your computer and try to pair Disto with Windows. Then connect it to M2 again.
------------------------------------------------
Scenario 2: My Disto can be paired correcty with Windows 10. It can also connects properly with M2 program. However Why does my Disto laser meter disconnect with M2 program after 30 seconds connection?
To better understand Disto connectivity issue, we need to understand how the bluetooth adaptor works between Windows 10 and M2 program.
Windows 10 will automatcially drops Disto laser meter if the device is idle for around 30 seconds. That's the design of Windows 10.
M2 will monitor the connection between Windows 10 and M2 program. Whenever Windows 10 drops the Disto connection, M2 will force the laser to reconnect with Windows 10.
However, between the disconnection and reconnection, users will experience a 3-5 seconds lag.
When the Disto reconnects with M2, the bluetooth icon on Disto screen will stay solid (no flashing any more)
User can continue to work.
Member for: 2 months 9 days

Wow! I think many users have this troubleshoot problem and they will learn through this post. I will buy custom essay online to read what we need to get ahead of these type issues and I like you write about this.
Displaying
1
to
1
of
1
messages